This is DiZigns "Golden Thread Stitching" World. In 2014 I began my plunge into my designer drawstring bag making because my professional designer/daughter hates to see things thrown away (especially beautiful things) that possibly could have another use. There is a lot of "strong arming" to get the fabric pieces out of books, free of paper and categorized, but the result is a huge archive and variety of interior design fabrics. The bags are made from these unused/recycled pieces and/or new pieces all of which are dry clean only.
(I recycle more than just the fabric pieces from the books)
For the most part, fabric for the bags is chosen artistically, trying to use a section of the piece that shows the best part of the design. Other times, the choices for the bags may be just symmetrical, but using complimentary colors. These designer fabrics from the books have all sorts of similar designs and show all different colors, so that mixing and matching is striking.
Sometimes the choices are made for the feel of the fabric……..silks, satins, velvets, thick plushes/felts, suedes. The above clutch-size bag on the table shows the complimentary designs of the front and back and is made from a plush terry-like cloth. Below are various velvet bags that are soft and gentle outside and inside, to hold those special items.
The fabric for the linings of the bags are most often chosen for the special feel as a hand reaches inside.
As mentioned above, many times the pieces of the fabrics, or the sections of a piece of fabric, are chosen artistically and combined sometimes with 4 different choices for the outside and inside as shown by the bags below.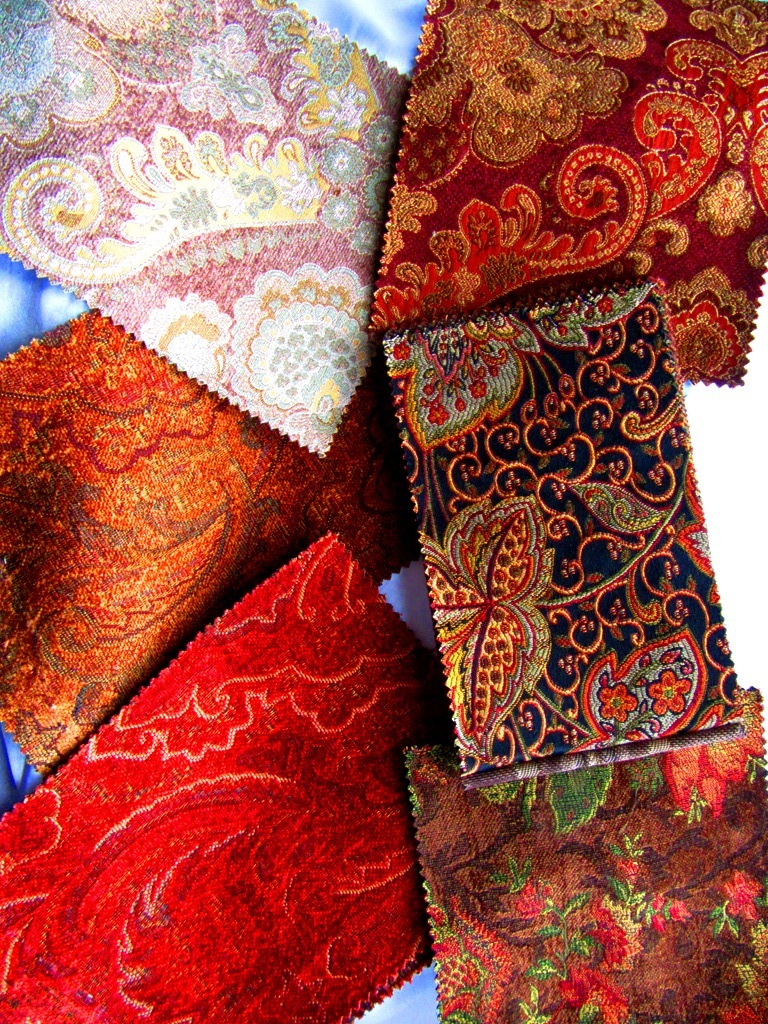 Let me make a bag for you!
You can choose from tapestry brocades…
Just send a message about what you want in a bag or bags and I can send fabric samples as in the examples above and together we can create your unique drawstring bag.